Minor Savings Account
This is the perfect savings account for those who are under 18. When the minor becomes 18, the account will be converted to an Itasca Savings Account.
ILUTMA Savings Account
This is a perfect account for a grandparent or parent to start a savings account for a child. This is a custodial account and at age 21, the custodian must convert the account to another account.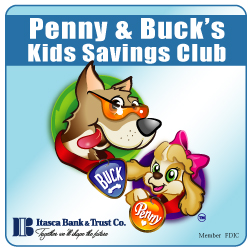 Kids Savings Club
When you join the Kids Savings Club, you will receive these fun items to help your child save:
Passbook - record your child's deposits so they can watch their savings grow.
Quarter Coin Holder - holds 20 quarters to save $5.
Piggy Bank - teach your child that even pennies can add up to big savings.